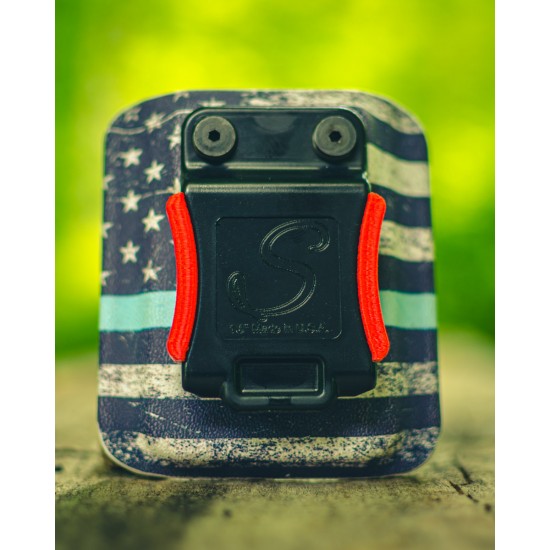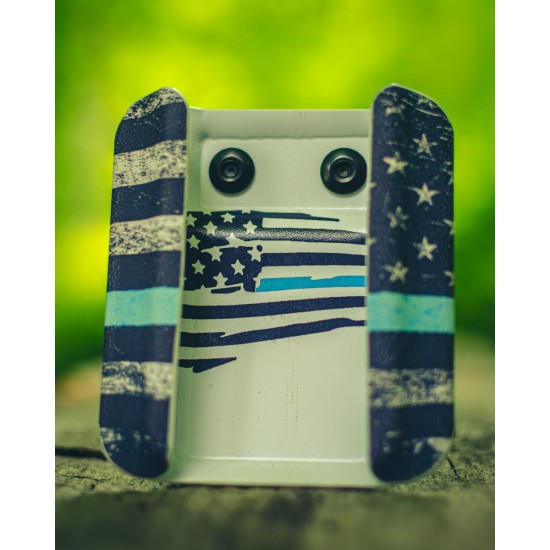 Thin Blue Line on white - Companion Kydex Holster
This is a limited edition run of our Thin Blue Line print holsters with a flag print on the inside. Fit and function are exactly the same as the normal Companion holster and I've left that information below.
The Companion holster is designed to provide easy access while still providing excellent protection from daily use and damage. From kids at school and play, to moms and dads on the go, this was made to be a good all around holster for active lifestyles. It offers the option of having the screen face in or out, so that you can install the pump in whatever orientation you prefer. Available in lots of fun colors and made from heavy duty Kydex, it will take the bumps and bangs of daily use while still looking great. The holster grade clip, designed to latch onto your belt , is built to outlast other standard clips on the market. If you prefer to wear your pump in your pocket, you can add a Gripster (also available in a variety of colors) to the clip. This will help secure it in your pocket to keep the holster from falling out while still having the ability to easily access your pump.

NOTE: This holster fits just the bare pump. It will not fit the pump in Tandem's case. Look at the Companion Plus Holster for the Tandem T:Slim if you'd like even more protection by using their case within the holster. Also be aware that you have to remove the pump from the holster to access the T Button on the side of the pump.

Precisely built insulin pump holder for the Tandem T:Slim and T:Slim X2
Simple and Rugged design, helps protect your pump
Made from heavy duty kydex, to handle the bumps of day to day use
Simple slide in and out design, easily access pump for adjustments

Smooth no snag shape and edges, helps to insure you don't get snagged on clothing or objects
Offers screen in or screen out orientation
Heavy duty clip to withstand daily use
Wear on belt or in pocket with Gripster(What is a Gripster?)
Available in a variety of colors
Proudly Hand made in the Upper Peninsula of Michigan
Stock:

In Stock

Model:

THINBLUELINE-WHITE-COMPANION

Weight:

2.50oz

Dimensions:

3.00in x 5.00in x 0.50in